Semi Conductors:
A semi conductor is an element which has 4 electrons in its valence orbit ex carbon
If a small amount of another element (phosphorus, Aluminium) is added to the semi conductor material, the new crystal will have either extra electrons ( N-TYPE) of too few electrons ( P-TYPE)
L.E.D.
Term Diode means " two Element"
A small voltage develops where the crystals join called the barrier voltage
Diodes have polarity , Neg lead is short, Pos is long lead (backward does not work)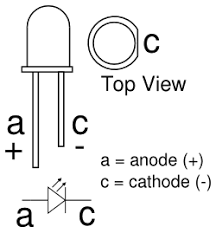 Capacitors:
A capacitor is a device that stores electrical energy in an electric field. It is a passive electronic component with two terminals. The effect of a capacitor is known as capacitance.
Basic function of a capacitor is to store electrical energy by building up a voltage between the metal plates.
Capacitance is measured in Micro Farads (MF)
Capacitors also have a voltage rating which is the maximum voltage that is normally safe to apply across the leads
Electrolytic Capacitors are polarized( pos and Neg leads) and care must be taken when installing them.
Transistor